TUNING SHOWROOM 1
Networking, shy, vernacular, dreaming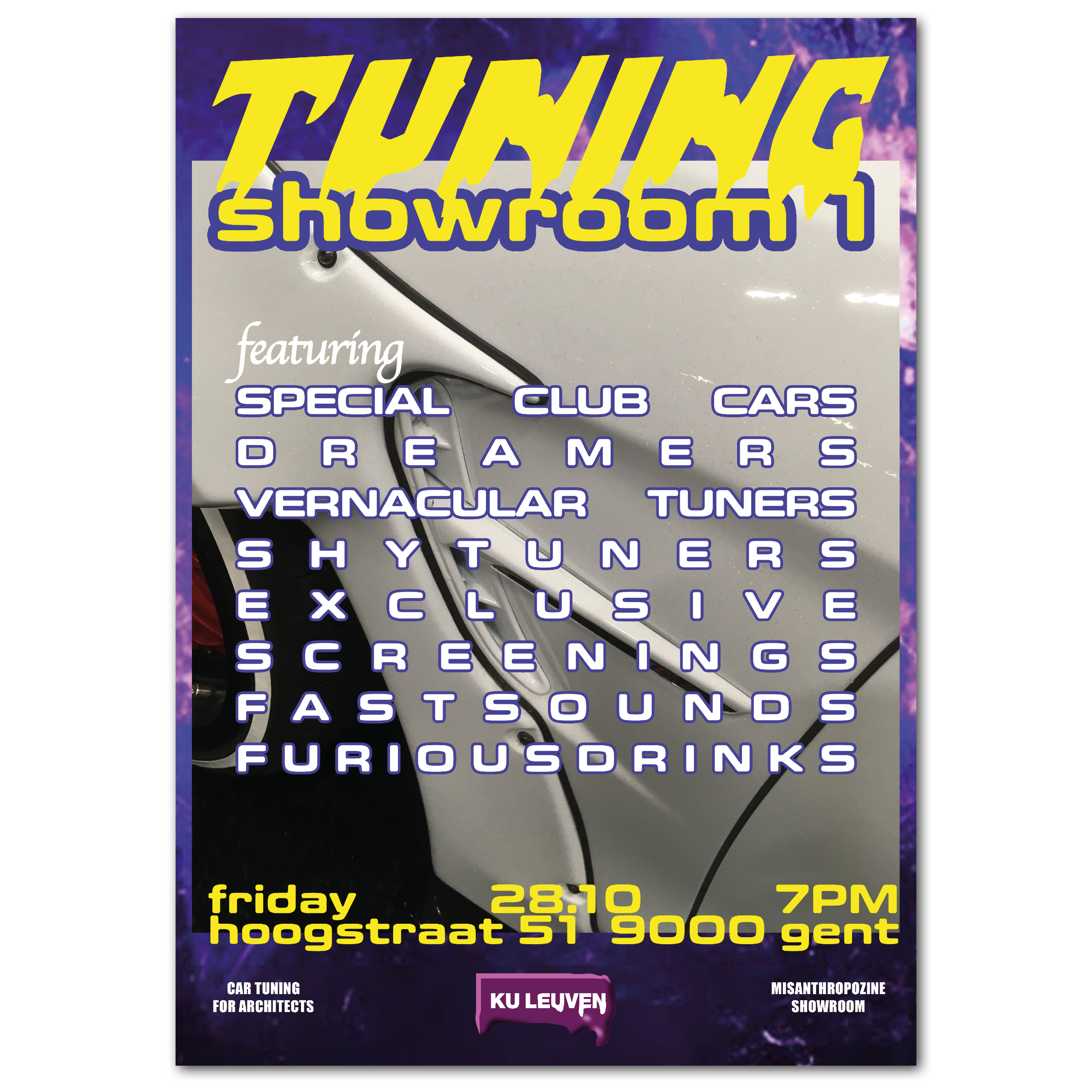 To kick off this year's Car Tuning for Architects project, the students of the eponymous elective invite you to TUNING SHOWROOM 1.
Hosted at our Hoogstraat campus, this networking and community-building event treats you to a buffet of screenings, presentations, a bar and music. Special feature of the event is the showstopping collection of club cars presented at the campus parking lot – including members of the Vernacular Tuners Society, Dreamers and SHY tuners!

TUNING SHOWROOM 1 showcases not only the work of master of architecture, design and art students, but also provides an opportunity to connect with the MISANTHROPOZINE community. This academic cool-critical journal will devote its next issue to the TUNING x ARCHITECTURE topic. You're cordially invited to take part, so pull up to the Hoogstraat!

TUNING SHOWROOM 1
Friday 28 October, 19:00-22:00
Hoogstraat 51, 9000 Ghent

Call + about:
MISANTHROPOZINE #2 TUNING focusses on the world of tuning and relates its languages, media, artefacts and masterminds to those of architecture. How, if at all, does the wide spectrum of tuning culture relate to the built environment, its fashions and aesthetics? Tuning is understood as a modifying culture in which both performance and looks are altered. We believe that architecture derives its meaning from a similar and complex dance between performance and aesthetics, program and tectonics. By diving deep into the subcultural field of automotive extravaganza, we will discover strategies, slang, tricks and metaphors that exist in our domains also, but only reveal themselves by means of our extraterritorial detour. MISANTHROPOZINE welcomes your thoughts on tuning, and hopes to find new family members (soulmates and weird aunts alike) that want to help equalize car tuning and architecture — all for the great good of piercing the pictures of ourselves, out projects and our disciplines.